Back to Attorneys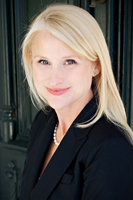 Brynja Booth is a founding member of the firm who has been practicing law since 1997. Previously, she was a shareholder with Cowdrey Thompson, P.C. for 15 years. Brynja's primary practice areas include real estate, land use, zoning and property rights, corporate law, as well as commercial and general civil litigation. She practices in state and federal courts, and has extensive appellate experience. She has represented a number of local governments and is currently the Town Attorney for the towns of Oxford, Trappe, Greensboro, Goldsboro, Federalsburg and Queenstown.
Brynja was born in Olean, New York. She obtained her undergraduate degree from Bucknell University, cum laude in 1993. She received her J.D. in 1996 from Washington and Lee University, cum laude. After law school, she clerked for the Honorable William S. Horne in the Circuit Court for Talbot County.
Brynja is a member of the Maryland bar, the United States District Court for the District of Maryland, and the Fourth Circuit Court of Appeals. She is a member of the Talbot County Bar Association, the Maryland State Bar Association, and serves on the Character Committee for the State Board of Law Examiners. She is the President of the Maryland Municipal Attorney's Association, and she is a regularly invited speaker on land use and legal issues affecting municipalities at various conferences throughout the state. Brynja served on the Trial Courts Judicial Nominating Commission for eight years as both a member and as Chairman, and is currently serving a third term as Chairman. She maintains a Martindale Hubbell AV (preeminent) rating with her peers.
Brynja has argued over 15 cases before the Maryland appellate courts, and has written approximately 40 appellate briefs during her career. Her reported cases include Waterman Family Limited Partnership v. Kathleen B. Boomer, et al., 456 Md. 330 (2017); Assateague Coastal Trust v. Schwalbach, 448 Md. 112 (2016); Oxford v. Koste; 431 Md. 14 (2013); Mastandrea v. North, 361 Md. 107 (2000) Spring v. Bradley, 355 Md. 79 (1999); Bucktail, LLC. v. Talbot County, 352 Md. 530 (1999); Schisler v. State, 394 Md. 519 (2006); Bryan v. Makosky, 380 Md. 603 (2003); Greenpeace, Inc. v. Dow Chemical Co., 808 F. Supp.2d 262 (D. D.C. 2011).
Brynja and her husband Curt live with their two children in Easton. She is active at The Country School and in St. Marks United Methodist Church in Easton. In her free time, she enjoys reading, hiking, and long distance running.