Back to Attorneys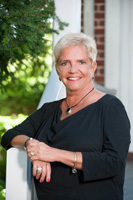 Elizabeth Ann Evins was admitted to the Maryland Bar in 1996 and has been practicing law with the firm since its inception. She previously practiced with Cowdrey Thompson, P.C. for over 11 years. Beth's primary practice focus is medical malpractice defense and general health law representation. In her practice with the firm, Beth has assisted with the defense of hundreds of medical malpractice claims, and has successfully represented physicians, nurses and other health care providers before the State licensing boards. She also provides risk management and regulatory advice to individual and institutional health care providers.
Beth was born in South Bend, Indiana. She started her professional life as a Registered Nurse, graduating from the Memorial Hospital School of Nursing in South Bend in 1976. She obtained her Bachelor's Degree from the Johns Hopkins University in 1986 and also earned a Master of Administrative Science degree from Hopkins, in 1988. Beth attended the University of Maryland School of Law, graduating in 1996.
Beginning in 1988, Beth worked in various capacities at a regional medical center in Maryland, focusing on risk management, patient safety, and regulatory affairs. After passing the Maryland Bar in 1996, she worked for several years as an executive overseeing risk management, regulatory compliance, patient safety, and clinical research activities. She also served as in-house counsel to the medical center.
Beth lives with her husband, Gary, and enjoys walking, reading, travel, and most of all, cooking.