Back to Attorneys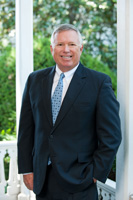 Hugh Cropper IV was born on April 30, 1963 in Salisbury, Maryland. Hugh graduated from Worcester Preparatory School in Berlin, Maryland (1981), the College of William & Mary, (B.A., 1985), and the University of Maryland, School of Law (J.D., with honors, 1988).
Hugh is a founding member of the firm, and previously operated the Ocean City office of Cowdrey Thompson, P.C. for 13 years. He was formerly an associate, then partner, with Anderson, Coe & King in Baltimore (1988-2002). His primary practice areas include land use, zoning and property rights, administrative law, as well as general civil litigation. Hugh also represents a limited number of domestic clients in complex domestic law matters.
Hugh is the former attorney for the Town of Ocean City, Board of Adjustments and Appeals (1990-1991), and the Town of Ocean City, Board of Zoning Appeals (1991-2002).
Hugh is a member of the Board of Directors at the Bank of Ocean City (1996- Present), and he has served as Chairman of the Board since January of 2013. Hugh is a member of the Atlantic General Hospital Board of Trustees (2010-Present), and the Former Chairman of the Recruitment and Retention Committee (2010-2012) and the current Chairman of the Patient Safety Committee (2012-Present). He is also a member of the Board of Directors for the Lower Shore Land Trust.
Hugh is a member of the Maryland Bar and the United States District Court for the District of Maryland. He is a member of the Worcester County and Maryland State Bar Associations, and he currently serves on the Board of Governors for the Maryland State Bar Association (June 2013-Present).
Hugh and his wife Jennifer live in West Ocean City with their two children (twins) Myra and Hugh Thomas. Jennifer is the Office Manager of the firm's Ocean City office. Hugh and his family also spend time at their home located on their farm in Snow Hill, where they hunt, fish, and enjoy the outdoors.