Back to Attorneys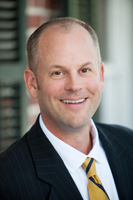 Thomas Marriner has been practicing law since 1995 and he is a founding member of the firm.  Tom's primary practice area is civil litigation, with a focus on defending professional liability matters for individual health care providers and institutions. Additionally, he represents physicians in matters pending before the Maryland Board of Physicians. He also handles personal injury claims.
Tom was born in Salisbury, Maryland. He obtained his undergraduate degree from the University of Maryland in 1991. He obtained his J.D. in 1995 from the University of Baltimore School of Law. After graduating, he was law clerk to the Honorable Daniel M. Long, in the Circuit Court for Somerset County.
He is a member of the Maryland and District of Columbia Bars, as well as the U.S. District Court in Maryland, the Fourth Circuit Court of Appeals, and the United States Supreme Court. He has litigated matters throughout the State of Maryland and in Washington, DC. He has successfully defended hundreds of professional liability claims, tried many civil trials to verdict and argued multiple times in the Maryland appellate courts. His reported cases include: Lockshin v. Semsker, 412 Md. 257, 987 A.2d 18 (2010); Kearney v. Berger, 416 Md. 628, 7 A.3d 593 (2010); Marcantonio v. Moen, 406 Md. 395, 959 A.2d 764 (2008). He has been named a Super Lawyer and maintains a Martindale Hubbell AV (preeminent) rating with his peers.
Tom lives in Severna Park with his wife and their four children. He is an avid sports fan and he enjoys outdoor activities with his family.